One system, multiple uses
You can use EarthLinked® to heat water or for heating and cooling commercial spaces. Whether your organization operates in Erie - Pennsylvania, Richmond - Virginia, or Dover - Delaware, the EarthLinked system is engineered to deliver savings, easy operations and reliable performance. Because of its small size and its mechanical simplicity the system is efficient and dependable.
Commercial water heating
The EarthLinked Water Heating system delivers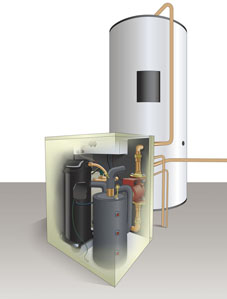 the highest efficiency of any powered water heating system. The most economic application of the system is to preheat large quantities of cold water to 110-120°F (43-49°C) for commercial applications. Typically, the system provides preheated water to standard 120-gallon water heater tanks. As hot water is used in the facility, the preheated water is transferred to one or more commercial water heaters. If necessary, the preheated water temperature can be boosted to a higher temperature by a standard commercial water heater.
Swimming pool heating
No matter the size of the pool, the EarthLinked system has unequaled efficiencies compared to traditional methods to heat the water without harmful combustion byproducts. So you can provide your hotel guests the pleasure of swimming at a greatly reduced cost when compared to other powered pool heating.
Space heating and cooling
Thousands of property owners in North America and around the world use EarthLinked to heat or cool buildings. The system delivers a stable, comfortable temperature all year round. In summer there is greater dehumidification. In winter there are no blasts of hot air as with a furnace, and the heated air is warmer than with an air source heat pump. For maximum winter comfort and efficiency, EarthLinked can be coupled with a radiant hydronic heating system.
For all your home comfort needs, please call or email us today.